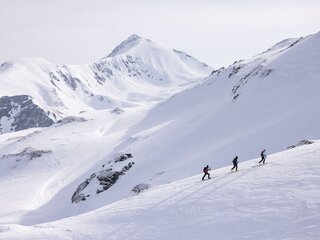 We are here for you
3x on the Turracher Höhe
Our three shops on the Turracher Höhe offer a carefully selected product range. Delight in the best ski and outdoor wear which is both functional and fashionable. We make sure you appear on the piste well equipped and beautifully styled.
Would you like to see more of Turrach, away from the slopes? We'll kit you out with the perfect shoes for hiking in winter, as well as finding you the best tours and giving you a few secret tips, of course.
After an active day in the fresh winter air, the natural next step is to relax at a spa. That's why we also offer swimwear and lounge wear, as well as a select range of yoga and fitness equipment.
We are INTERSPORT Brandstätter
A tradition going back more than 40 years
Our story began over 40 years ago, when we opened our first store next to the lift on the nursery slopes on the Turracher Höhe in 1973. We started by selling and renting sports equipment of all types.
In 1983 we transferred our rental operations to a newly built apartment block by the lake.
During modernisation in 1995, the premises on the nursery slopes were torn down and completely rebuilt: the result was our new flagship store.
Later, in 2002, a new store was added in the newly constructed building at the Sundance Resort next to the Kornock cable car. The store is equipped with a Montana ski edge grinding machine and is focused on ski services.
Since 2005, all three stores have operated under the INTERSPORT brand.
Each of the three stores offers sports equipment and services tailored to meet your specific requirements. One goal is to provide you with rock solid advice on everything to do with sport.
Come and see what we can offer. Our employees will be happy to advise you.